S.S. Olympic
Star,
White Star Line
, 1913 vintage post card restored and enhanced by Scenes from the Past for bolder, brighter, and better coloring. A Scenes from the Past EXCLUSIVE! If you find this one anywhere else on Zazzle, they stole it from Scenes from the Past! The Oceanic Steam Navigation Company or White Star Line of Boston Packets, more commonly known as the White Star Line, was a prominent British
shipping company
, today most famous for its ill-fated luxury flagship, the
RMS Titanic
, and the World War I loss of her
sister ship
,
Britannic
. In 1934 the line merged with its chief rival,
Cunard Line
, which operated as a separate entity until 2005 and is now part of Carnival Corporation & PLC. Seen here in
New York City
.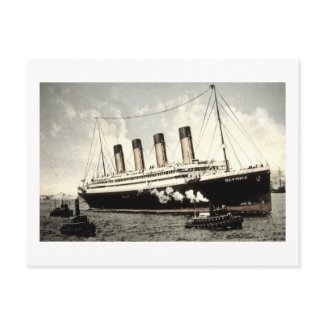 S.S. Olympic Star, White Star Line, 1913
by
scenesfromthepast
postcard printing
from zazzle.com